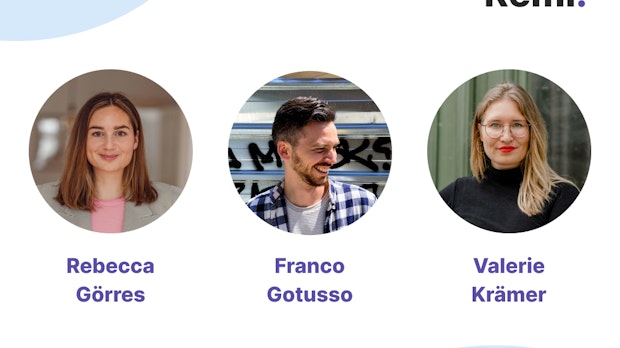 While the pandemic has forced most businesses to adapt to working remotely. There are different scenarios for the post-corona period, but there is basically great agreement on one thing: Remote work will continue to play a very important role in the future.
The expectations of the employees regarding the time after the pandemic are quite clear. A recent Microsoft study shows that 41 percent of employees are even considering leaving their current employer in 2021 for a company that offers remote work. At the same time, a recent study by Dropbox found that more than 50 percent of employees lack social interaction when working remotely.
Valerie Krämer wants to offer the solution to this challenge. Together with Rebecca Görres (organizational psychologist, formerly Prophet and Samsung) and Franco Gotusso (previously Engineering Teamlead at Typeform), Krämer (previously active at Opinary, Twitter and dpa, among others) founded Remi, a cultural platform for remote and distributed teams, in early 2021.
Team culture for remote teams
"We give remote teams a platform to build, measure and maintain their corporate and team culture," explains Krämer. Remi uses scientifically proven models for culture formation, coupled with insights from the most successful remote companies, and uses rituals and "nudging" to help remote teams build a strong team culture. European scale-ups such as Tier and Get your Guide are already in test operation with Remi, more than 500 companies have already been put on the waiting list.
Investors can also benefit from this approach. Remi recently raised € 1.2 million from European early-stage investor Btov Partners and a number of well-known European angel investors such as Eyeo founder Tim Schumacher, Honeypot co-founder Emma Tracey, CPO of Tier Georgie Smallwood (as part of the Accel Starter Program) and Michael Kuntz, former VP Finance at Personio.
You might also be interested in