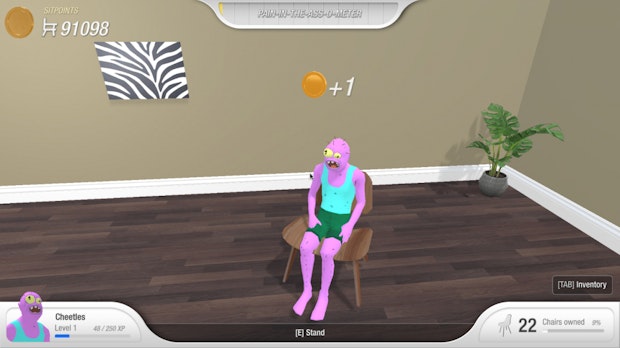 In many games it is the task of the players to farm raw materials in order to learn skills or to create certain items, which in turn help to level up faster. The chair simulator works according to a similar principle. So at least a little. In order to receive coins and XP for level up, one thing above all has to be proven: perseverance. Namely the endurance of the buttocks muscles of your own character.
The Chair Simulator is a single player game for Windows and MacOS and can be downloaded for free from Steam . The game principle is very simple. There are hundreds of different chairs in all shapes and colors. From the high-quality brand armchair to the zero eight fifteen kitchen chair, everything is included. The aim of the player is to get so-called "sit points" by simply sitting around on one of the padded four-legged friends. These points can then be invested in new chairs.
If you sit too long, you lose
But just like in real life, movement takes too long Sitting is also of no small importance in the Chair Simulator. If you get stuck, you run the risk of numbness, muscle wasting and hemorrhoids. In the worst case, the virtual character simply dies on its wooden base.
Speaking of characters: the player can choose his favorite from 14 different characters. There are also "professional sitters" like the Youtuber Mrbeast, rapper 24kgoldn or the Fortnite streamers Faze Kay and Faze Jarvis. You can also sit in two different locations. On the one hand there is the living room at home to choose from, on the other hand a spacious chair shop, which is strongly reminiscent of a Swedish furniture giant due to its blue and yellow design.
The artist collective has struck again
Behind the game are the viral pranksters from MSCHF, who may be known to one or the other from their paintball gun art installation on a Robodog from Boston Dynamics. In addition to complex simulators such as the farming simulator or the Microsoft Flight Simulator, absurd simulators such as the well-known Goat Simulator are also very popular. Without wanting to offend the developers, the chair simulator can clearly be found in the last category. So wonderfully absurd that it's almost beautiful again.
You might also be interested in