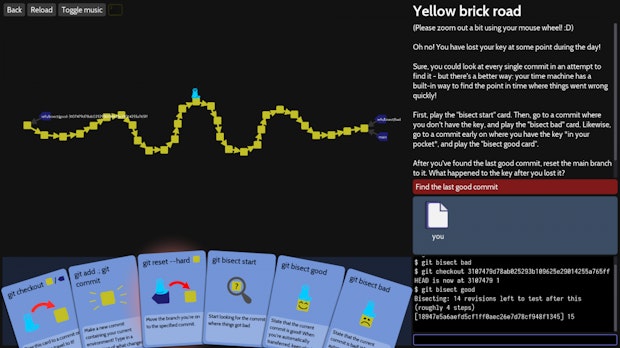 It stays as it is: The version control software Git is complex. The most important commands for getting started fit on a cheat sheet, but really understanding the powerful version management tool is an art in itself – also because it is typically operated via the command line. There are books and tutorials that illustrate Git branching or individual processes such as rebasing or cherry picking. And recently there is Oh my Git – a game that visualizes Git processes as part of a journey through time.
The game was developed by two developers Developed internally from Germany, it is completely open source and based on the Godot Engine – a game development environment that is appropriately also open source. The game was made possible by the Prototype Fund, a funding program of the Federal Ministry of Education and Research, through which the developers were able to finance their work on Oh my Git over a period of six months.
Playing cards and an integrated terminal
If the thought of Git makes you nervous, even in the form of a game: understandable. But if you don't dare, you won't learn either! Oh my Git conveys commands and their effects on a repository with the help of playing cards, which have an icon and a brief explanation next to the respective command. For players who want to go all-in right away, Oh my Git has a terminal in addition to the interactive surface, which can be used by drag-and-drop. Those who like to experiment can enter various Git commands here – this also trains the muscle memory.
The funding for the game ended in February 2021 – if you want to participate in the open source project or support its further development financially, you can find the repo for the game and the associated issue tracker on GitHub; There is a link to the Patreon of the developers on the website.
You might also be interested in