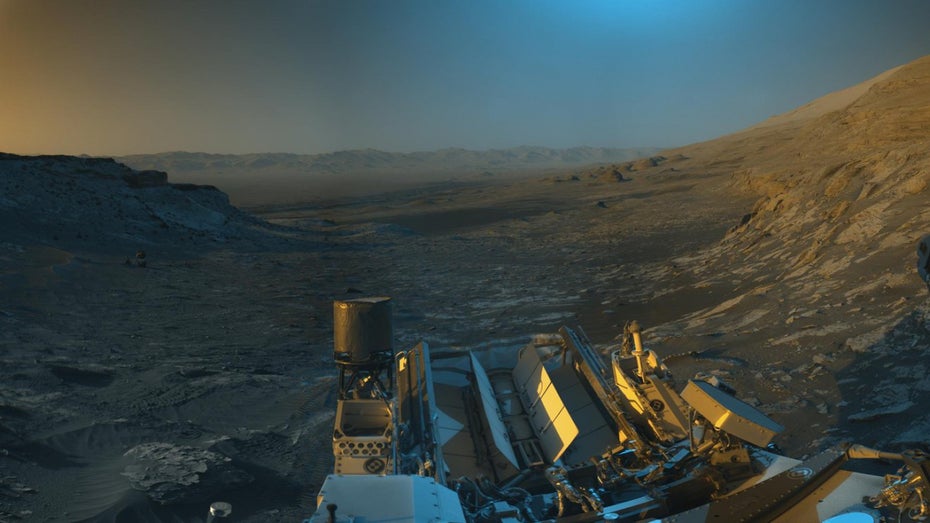 After each successfully completed mission, the Nasa Curiosity rover takes 360-degree panorama images with the ones actually intended for navigation Black and white cameras on. The recordings are also compressed so that the images can be transmitted to earth more quickly. This time the NASA team responsible for the curiosity mission found the pictures so impressive that they decided to edit them and add color.
Curiosity on Mount Sharp in the Gale crater
The result is a breathtaking panoramic photo that shows the view from Mount Sharp, five kilometers high. In the distance, a little to the right of the center, a chain of hills can be seen. On the far right of the photo is the Rafael Navarro Mountain, a mountain named after a NASA employee who died in January. Behind it, the upper part of Mount Sharp protrudes into the Martian sky. The mountain range is located in the so-called Gale crater, a 154-kilometer-wide basin. The rim of this crater can be seen on the horizon.
The two black and white photos taken by the Mars rover, which were later edited , originated on November 16 – one at 8:30 a.m. and another at 4:10 p.m. Martian time. Thanks to the different times of the day, there are contrasting lighting conditions, which better reveal various landscape details. At NASA, the elements from the morning scene were finally drawn in blue, those from the afternoon scene in orange and a combination of both in green.
Curiosity had already been able to take fascinating pictures of the area around Mount Sharp in the summer, at that time in high resolution and in color – with the cameras of its Mastcam instrument. Most of the other panoramic images that we have been able to see so far come from this camera.
You might also be interested in