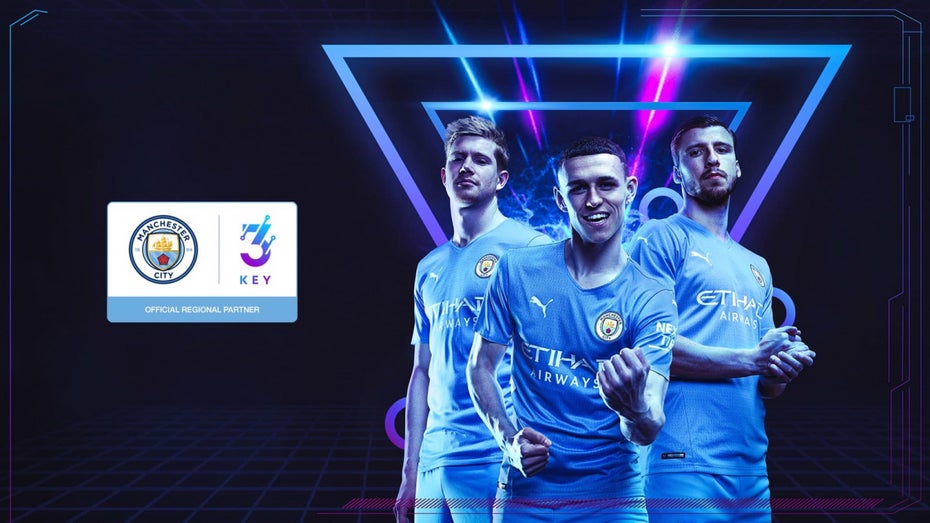 The Premier League club Manchester City signed a cooperation agreement with the crypto startup 3Key on November 12th and presented it as the new official regional partner for "decentralized financial trading analysis". In informed circles, doubts about the seriousness of the company quickly arose
More on the subject
Much Goals, Very Wow: Dogecoin adorns the jersey of Premier League club Watford FC
"Managers" do not have a digital footprint
At the beginning of this week the journalist Martin Calladine asked on Twitter to about the in ManCity's press release mentioned marketing director Ryan S. Hodder digitally. However, the Twitter crush did not succeed in discovering its digital footprint. Only the photo of a man with a red beard in a plaid suit, who could possibly be 3Key's "Chief Growth Strategist" Jacob Caine, could be found.
That was astonishing, as Hodder was quoted by ManCity as saying that "Practice, teamwork and passion are the foundations of success and these values are in abundance at Manchester City. "Shouldn't a successful crypto company be a little better known than its executives? Many asked themselves that.
After the first doubts, more peculiarities quickly emerged. So 3Key should be a new "regional partner". For which region was just as unclear as the location of the company. The Guardian reports.
Also dubious: One day after the Twitter community began investigations, two websites connected to 3Key went offline. A day later, one of the websites went back online. There you can read that 3Key has been in operation since 2020. However, neither employees nor available products are mentioned.
According to its own information, 3Key intends to trade with digital assets to facilitate. In addition, it allegedly has the so-called CeDeFi concept (Centralized Decentralized Finance) up its sleeve, a combination of "the best of both", centralized and decentralized finance, "to make participation easy for everyone".
The open question marks did not leave the club management unimpressed. After sponsorship manager Stephen Cieplik first expressed his joy about the 3Key partnership and announced that he wanted to develop ManCity-related crypto content with 3Key, the association has since withdrawn.
As the Times has learned, ManCity now wants to do further research itself en. There will be no joint actions until they are completed. The association had also confirmed this to the Daily Mail, whose editor Jack Gaughan had published the statement on Twitter.
According to Forbes, Manchester City is the fourth largest football club in the world with an estimated market value of $ 4 billion. 3Key isn't the club's first crypto experience. ManCity had already chosen the blockchain platform Socios.com in March to use it to launch a fan token.
You might also be interested in