The English football club, Manchester City, has been one of the teams that has advanced the most to cover spaces in new technologies. They have launched from non-fungible tokens (NFT), to fan tokens in the Ethereum network.
Now, the next step of the City is to enter the metaverses and for this it is associated with the giant of the Sony entertainment. The goal is to combine company technologies and club content to develop new digital experiences for fans, they said in a statement.
To achieve the presence of the English team in the metaverse, Sony will carry out a PoC (proof of concept), a process that allows to evaluate the ideas before they are available to the rest of the consumers.
The The intention is to develop digital services that integrate the physical and virtual worlds to "excite and engage both the current and the next generation of sports fans around the world," they explained. .
Among the elements that Manchester City wants to bring to the metaverse, there is a virtual recreation of the Etihad Stadium , the club's stadium in the United Kingdom . They ensure that this would be the starting point for fans to also create their personalized avatars and participate in interactive loyalty programs.
Toshimoto Mitomo, director of the business incubation platform and intellectual property of Sony Group Corporation, sees it as an opportunity for the club to grow the value of its content and the commitment to its fans.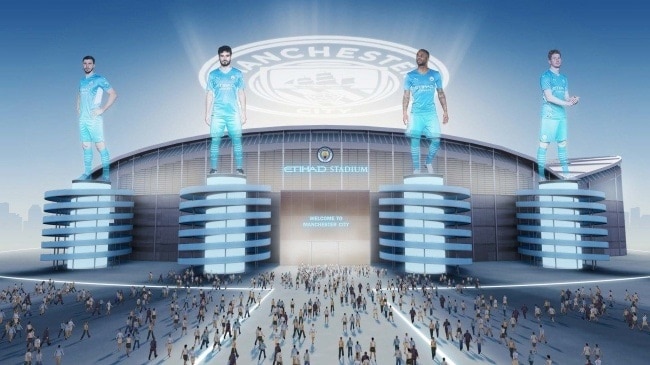 «Sony aims to create an online fan engagement platform that brings the Club and its global fans closer together, demonstrating our commitment to the sports entertainment business and to support our partners in finding new opportunities, "added Mitomo.
Manchester City se immerses in new technologies
As said at the beginning, the English club has been dedicated to continually adopting the latest technologies to enhance its connection with fans around the world.
Last May, City announced a collection of NFTs to celebrate the championship achieved in the season pass. For this, the team partnered with the platform based on the Ethereum blockchain, MakersPlace, a fact reported by CriptoNoticias.
They also partnered with Socios.com to launch a fan token that would give them to the Club followers, rewards for owning the tokens, as well as team promotions. In the same way, they could participate in games and polls that will allow them to have a voice and vote in some decisions of the club.