The IT Manager of the Year (formerly the CIO of the Year) presented the awards, which have now become the most prestigious professional recognition for IT managers, who are playing an increasingly important role in the operation of companies, for the twentieth time this year. a professional organization of large enterprise users. The award is open not only to CIOs, but also to CIOs in a broader sense, including CTOs, CINOs, CDOs and even COOs. organizations or members of the jury. A broader interpretation of IT managers In addition to the IT Manager of the Year award, the Péter Braun Award, established in 2016, also shows well. The award, which preserves the memory of one of the most significant presidents of VISZ, is awarded each year to an IT manager under the age of 35 who provides outstanding professional performance. As last year, the work of two of this year's candidates was considered particularly outstanding by a jury made up of representatives of professional organizations and specialist journalists, who also knew the editor of Computerworld. The Péter Braun Prize, which recognizes the work of young IT managers, was awarded by the Board of VISZ to Bálint Tichy-Rács, IT Director of FGSZ Zrt., On the proposal of the jury. since graduating from the Budapest University of Technology and Economics. After graduating from university, he took a job at MOL, where he went from an internship to a senior position. In 2017, he joined FGSZ Földgázszállító Zrt., Where he managed application development for two years, then was appointed the company's IT director in 2019.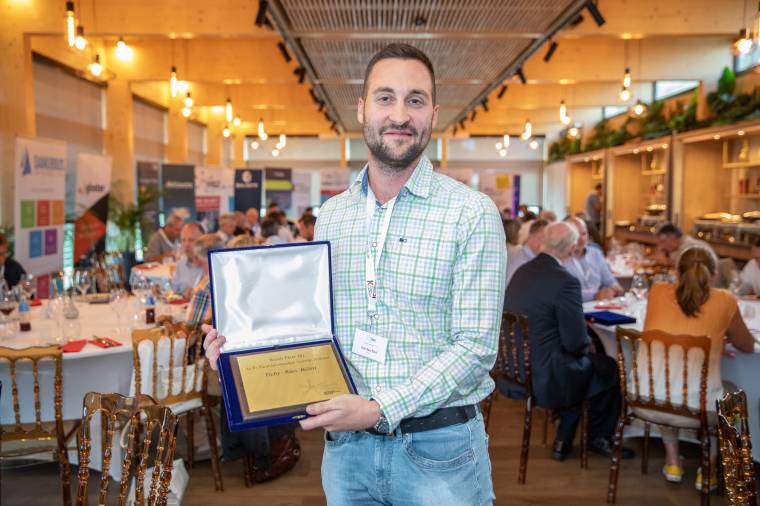 As highlighted by the jury in its assessment: The preparedness of a young professional is best shown by the fact that he was able to create an environment open to innovation even in the sector that prioritizes operational safety above all else. Over the two years of its leadership, it has developed an IT team that provides a solid foundation for digital development in a "responsive" lineup, organized around systems and solutions.
Computerworld: Why did you consider it important to apply for this award?
Bálint Tichy-Rács: After the nomination, I thought that this was a great opportunity to show what changes we had made on the IT side of FGSZ. At Zrt. In recent years, at the same time, I also wanted to get more people to know our company. In Hungary, FGSZ Zrt. Is responsible for ensuring the supply of high-pressure natural gas, and thus indirectly for the supply of gas to the residents of the country. This is not known to many as they do not come across our company as a retail consumer. I consider it a serious achievement that a company with such a strategically important activity has managed to take modernization steps that were previously unthinkable, all in such a way that stability and security were further strengthened in our operations. During the preparation of the application material, it was a good feeling to look back on the results achieved in recent years and to gather answers to the challenges of the future.
Computerworld: What will the life of an IT manager be different after such professional recognition?
Bálint Tichy-Rács: This award is a huge energy bomb for both me and the organization, because what we believe in and what we have achieved has been recognized nationally, but at the same time confirmed that we are on the right track. It also means more responsibility because as the young IT manager of the year, more people pay attention to my opinions / decisions. It is important for me to be able to represent the IT profession at a high level.
From an operational point of view, of course, life goes on, my team and I are on the path of innovation, and .
Computerworld: What is the outstanding performance the industry has recognized with this award?
Bálint Tichy-Rács: In my view, this has several components. On the one hand, they valued the complete renewal of IT, both strategically and organizationally – these are important cornerstones of a company's innovative operations. The reorganized operating model was already in place before the pandemic, but COVID put the new concept to a strong stress test, which proved to be crisis-proof
It is also important that COVID did not lead us to modernization, therefore, we cannot speak of modernization born of compulsion, but of a premeditated direction. Of course, we accelerated the planned transformations in order to adapt as much as possible to the new situation, as the fact that our colleagues had to work remotely from one day to the next did not allow the country's gas supply to be jeopardized.
that we need to innovate in an environment that we need to automate, modernize, where everything is based on the safe operation of critical infrastructure. In this industry, we can only change and transform very thoughtfully and carefully, but at the same time the two aspects fit well with the two core values ​​of our company, safe and modern.
Computerworld: What do you consider most important in your work?
Bálint Tichy-Rács:
My colleagues, humility towards the profession, faith and innovation. Without a dedicated and motivated team, serious results cannot be achieved, without faith and vision it is difficult to build such a team, there is no vision without innovation, and humility is essential in achieving all this. Every day, I strive to be able to give energy and momentum to my colleagues when I go in to work and inspire them to develop, to innovate. I feel lucky to be able to work with excellent colleagues, both professionally and humanly, which I would like to thank them for here too!
However, I advocate that IT should play a key role in the company's strategy. I am working to keep our organization at the forefront of innovation and renewal, setting an example for all our colleagues.
Computerworld: What trends do you see in your field?
Bálint Tichy-Rács: Digitization, automation, robotization, security. We need to further simplify, paperless and speed up our processes in order to respond effectively to any changes. In the future, we need to manage repetitive processes based on simple logics with automation and robots in order to turn our colleagues 'resources into value-creating tasks. And with all our modernization steps, there must be a security issue, as more and more attacks are being made on companies around the world, we must always be up to date and do everything we can to protect our colleagues, data and ensure the smooth running of basic infrastructure.
Computerworld: What makes an IT manager good?
Bálint Tichy-Rács: Informatics for me about continuous learning and development which shapes day-to-day vision, strategy and day-to-day operations. In my view, it is "good" for an IT leader to remain humble to the profession, open to change, and to continually improve, motivate his team, and awaken a desire in all employees of the company for modernization and digitization. It is advisable to lead an IT organization according to principles in which both the leader and the team can believe and want to be a part of it. I lead my organization as described above, my colleagues find their own sub-tasks, goals and successes in the strategic goals of the Informatics Directorate, as well as the partner in me so that they can unfold. I pass on what motivates me and what I want to achieve, and I also help my colleagues find their answers to the "why" question. I am there with them in both difficult and joyful moments, I have countless shared professional experiences with all my colleagues, without which I find it impossible to run an organization.
About FGSZ Zrt.
FGSZ Zrt. Is the owner and operator of the high-pressure natural gas transmission pipeline system connecting the territory of Hungary, which supplies gas companies, power plants and large-scale industrial consumers. The technical standard of the Hungarian transmission system – based on international comparisons – is at the forefront of the world. They provide their services with a professional team focused on the satisfaction of their partners.
Their company focuses on cooperating in the interconnection of high-pressure transmission systems in neighboring countries at regional level, thus contributing to the region's security of supply, supply and diversification and market conditions. In addition, they aim to develop systems that allow for the integrated and optimal use of capacities, which can only be achieved with modern and high-quality IT support.
Our article appeared in the issue of Computerworld magazine on October 6, 2021.
Hardware, software, tests, curiosities and colorful news from the world of IT by clicking here