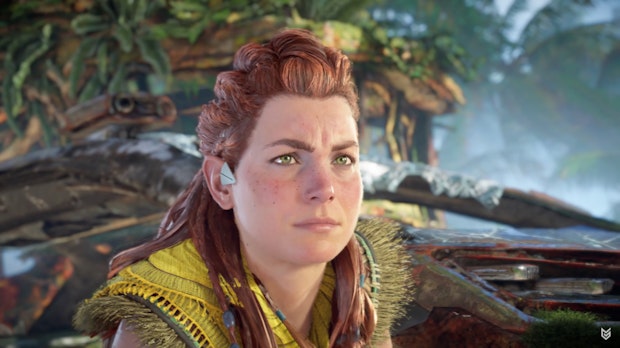 Later this year, "Horizon Forbidden West" will be the successor to the action published in 2017 -Game "Horizon Zero Dawn" for Playstation 5 and 4 appear. There is no exact release date yet, but the developer studio Guerilla Games has already released a gameplay video that lasts almost fifteen minutes. It shows various action sequences and excerpts from the story. At least some gamers are obviously not interested in this. On Reddit, Twitter and relevant blogs, these, apparently mostly male gamers, complain about the appearance of the main female character Aloy.
Also interesting: Women in video games – Lady Dimitrescu is a milestone for this designer
The face of Aloy At least in some sequences it looks slightly "rounder" than the previous one. That should be mainly due to the perspective, but does not prevent some gamers from calling them "ugly" or even "fat" – even if the character should obviously achieve a healthy value on the body mass index. Others accuse the character designers that Aloy hardly looks feminine in the second part of the game series. However, some fans are irritated by such criticism. "Someone has to tell these 'fans' that women are not there to fulfill your idea of ​​'feminine'," countered Kulpreet Virdi, a lawyer specializing in intellectual property, on Twitter, for example.
Gamers and the representation of women in video games
It is not the first time that parts of the gamer scene criticize the portrayal of a female character because it does not correspond to their idea of ​​femininity. Abby, the main character of "The Last of Us 2", was criticized from this corner because of her muscles. In the social networks there were even voices that the character could only look like this if she was trans. Apparently, this is based on the bizarre assumption that people who have spent their entire lives as women could not build such muscles. The fact that the figure of Abby was modeled on the body builder Colleen Fotsch is ignored.
The Dutch actress Hannah Hoekstra was the model for the appearance of Aloy from "Horizon Forbidden West". But that doesn't prevent parts of the gamer scene from recognizing supposedly transsexual traits in Aloy. This in turn is interpreted by the same gamers as a kind of political statement from the developers and publisher Sony. In the end, however, the incident only shows that parts of the gamer scene are still visibly uncomfortable when female characters are not conceived as pure sex symbols. However, these gamers are unlikely to have a major impact on the sales figures of the title. Even the previous title "Horizon Zero Dawn" was recognized by the British Guardian as a "feminist action game" – and was obviously successful enough for a second part.
You might also be interested in