With the most important commercial season of the year on the doorstep, cybercriminals launched a "ransomware" attack (data hijacking) against Media Markt, a chain of multinational establishments with great penetration in Europe. According to the information available on the case, the hackers demand USD 50 million (about 756.5 BTC) from the company to release the hijacked data.
Media Markt, of German origin, is listed as the largest electronics retailer in Europe. It has more than 1,000 stores in 13 countries and some 40 years of activity.
Reports indicate that the attack, which began this Monday, November 8, is still active. Hackers would have taken control of some 3,100 company servers and encrypted the data to prevent access to it.
The action caused the fall of IT systems and the interruption of operations in the Netherlands , Belgium and Germany. In Spain, several stores were also affected , which are unable to process online transactions. For the moment, they have had to limit themselves to the sale of products that are physically in the inventory of each store. The company sent emails to all its staff requesting that they not use the network, do not reboot the systems and disconnect the cash registers from the Internet.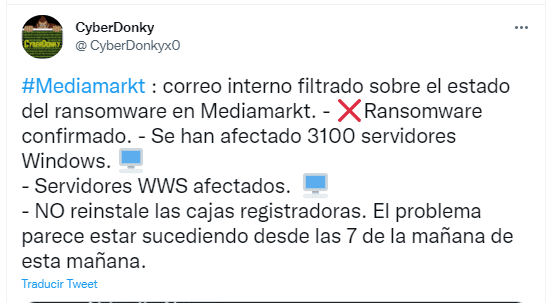 Hackers requested USD 240 million
It transpired that the hackers initially demanded a sum in bitcoin equivalent to USD 240 million, but after negotiations with the company the amount was raised to USD 50 million.
The BleepingComputer portal reported that it managed to confirm that the operation Hive Ransomware would be responsible for the attack . According to the report, it is an operation launched in June of this year that violates the IT security of organizations using phishing campaigns with malware.
They also pointed out that the operation's attacks Hive often include theft of unencrypted files, which hackers use to blackmail those affected, threatening to leak the data. Media Markt did not clarify whether the attack included this type of theft, although it did indicate that it reported it to the competent authorities and "works at full speed to identify the affected systems and repair the damage caused as soon as possible."
Regarding this type of attack, the United States government recently launched a million-dollar reward payment program, aimed at capturing information of interest about hackers involved in ransomware cases. The initiative began by offering USD 10 million for the identity and location of the leaders of the DarkSide group. This is the group that attacked the Colonial Pipeline, a major fuel distribution center for aircraft and vehicles on the southeast coast of the United States, in May of this year.