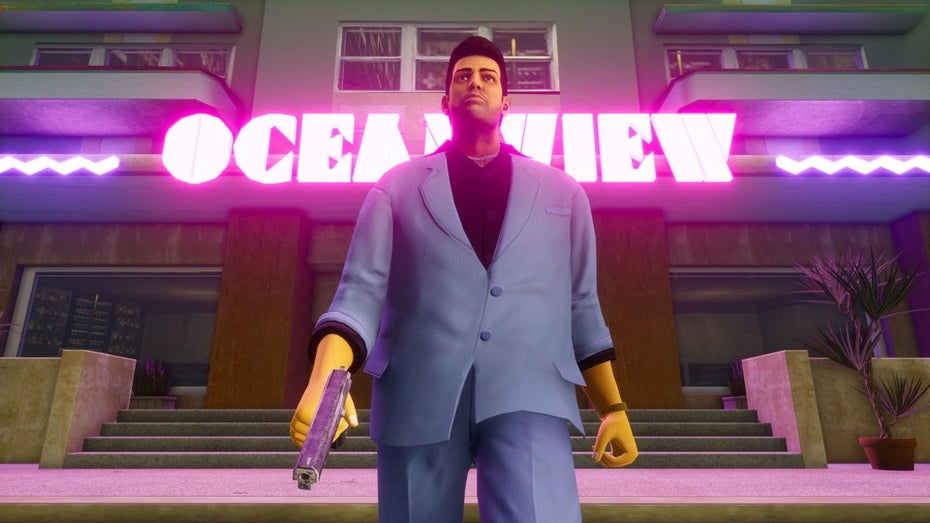 The two games "Cyberpunk 2077" and "GTA: The Trilogy" have more in common than that they actually come from studios stand for very high quality. With "The Witcher 3" CD Projekt Red has developed one of the most popular open world games ever. In the run-up to the release it looked as if "Cyberpunk 2077" would raise this standard again – but then a game appeared with an unbelievable number of errors. The three titles that make up GTA: The Trilogy helped found Open Worlds as we know them today. Their influence is still great today. With the "Trilogy", however, Rockstar Games has released a technically immature game that is worse than the originals in almost all aspects. How could that happen? Who is to blame that blockbuster games come onto the market that shouldn't have been published that way?
Bad games versus bad games
First of all, there is an important differentiation to be made: Both games, or editions, are essentially not bad games. It is of course difficult to pinpoint what is "bad". But this distinction is important in the following. Studios can, for example, make decisions in the development of a game that in retrospect turn out to be suboptimal. This can happen in game design, for example, when the designers come up with game mechanics that don't work well. In this case, the criticism can be directed at the developers, as it relates to elements of a game that are based on conscious decisions.
More on the subject
GTA: The Trilogy – these are the strangest graphic fails from the classic remaster
GTA: Trilogy still includes sex mod files
Can CD Projekt Red keep the roadmap for Cyberpunk 2077?
Such elements are also available in "Cyberpunk 2077" and "GTA: The Trilogy". The biggest criticism, however, was, and rightly so, for the technical implementation. Both games have a lot of bugs and performance issues. "Cyberpunk 2077" in particular was barely playable on some hardware when it was released and often crashed. Admittedly, these deficiencies were not based on conscious decisions by developers. They are errors that have arisen in the course of development and have not been eliminated. So the blame is not to be found here. The popular narrative of "lazy" or "bad" developers: inside almost never applies. Especially often not in games with technical errors.
The differences between "Cyberpunk 2077" and "GTA: The Trilogy"
What the two games have in common we have already pointed out: Blockbuster studios that are actually known for very high quality – and should also have enough budget. But the differences are all the more interesting. The development of "Cyberpunk 2077" began shortly after the release of the expansion "Blood and Wine" for "The Witcher 3" in 2016. It was first announced in May 2012. From the first mention to the release in December 2020 passed so over eight years. During this time a gigantic expectation built up – which was properly fueled by CD Projekt Red through all kinds of PR measures. It is known that the game's development has struggled with a number of issues. Employees had to crunch in order to finally be able to serve the 2020 Christmas business. Before that, the game had been postponed a number of times. "Cyberpunk 2077" should be the next big blockbuster for CD Projekt Red. Another success story. Instead, the release turned into a disaster.
It is different with "GTA: The Trilogy". The game was announced just weeks before its November 11th release. It's not the next big blockbuster title for Rockstar Games. That should be GTA 6 – even if nobody knows when the game will be released. And, most importantly, the game was not developed by Rockstar Games itself. Rather, it was Grove Street Games that were hired to do it. The development is said to have taken two years. In addition, it is a remaster, not a game developed from scratch. It should be noted, however, that the developers have released the game in a new engine – not a very easy task.
While a lot is known about the development of "Cyberpunk 2077", we don't know very much about the course of "GTA: The Trilogy". Video game productions are mostly self-contained. Employees are subject to strict NDAs and are hardly allowed to say anything. If something penetrates the public, it is anonymous and clandestinely. However, there are a few considerations that are very important when it comes to why games are published incorrectly. Some examples:
What were the deadlines for the milestones? How much time did the developers have:
What was the budget that a studio like Grove Street Games could work with?
What unexpected technical problems did you encounter during development? Did engines have to be changed?
Will a game be postponed so that there is more time for quality management? Or so that even more features can be built in?
"Why didn't QA notice that?"
The last point leads us to an important department in every major video game studio: Quality Assurance, or QA for short. Their job is to test games for bugs before they are released. Gamers often seek the problem in this department when a game is published with many bugs – wrongly. Of course, hardly any game, especially one as complex as "Cyberpunk 2077", can ever be delivered without any bugs. There will always be bugs that QA didn't discover. These are mostly those that occur under rare and very complex circumstances.
More on the subject
GTA 6: That's why Rockstar will not release the game before 2025

Pokémon and Nintendo Switch: The Problem Behind the Trees

Gaming: Half of Germany is playing

However, if you experience a gross and frequently occurring error in a game and think "Why was it not discovered?", You can assume that this was discovered. Employees in QA teams carefully document bugs and glitches and pass them on to the appropriate departments. Quality Assurance finds errors – but does not correct them itself. The programmers are responsible for this. In the best case scenario, the many departments of a gaming studio are in close contact.

Why stay the errors discovered in a game? There is usually an answer to this: It was decided that they are justifiable.

The management of To accuse blockbuster studios and publishers that they don't care about the quality of the games is certainly too easy. In the long run, it's the quality of the games that keeps the players inside. But there are some scenarios in which the release date is more important than the quality.

Companies like CD Projekt Red or Take Two, to which Rockstar Games belongs, are listed. Listed companies are dependent on the investors. And in addition to high sales, it is important to them that these sales remain high in the coming quarter or financial year. Release dates are therefore not only important for players. Above all, they are for investors. They want to know which games will be released and when – that is, when the greatest sales will be made. You have probably already noticed that the course of a gaming company often goes down when a game is postponed. This is exactly what the management wants to prevent.