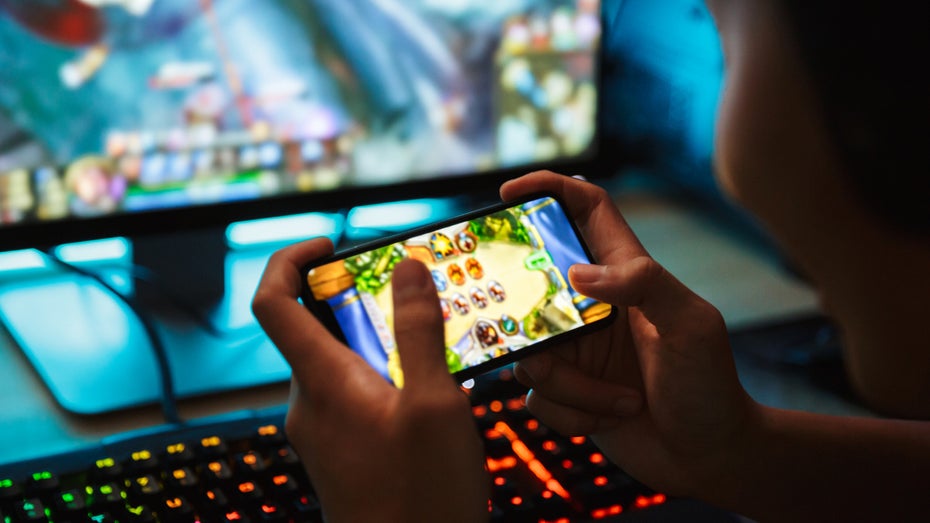 Not only games for the Playstation, Xbox or PC are reduced on Black Friday. There are also bundled offers for the Nintendo Switch, inexpensive gaming headsets and keyboards, and much more. It is interesting that many of the retailers have decided to provide the same products with a discount. In our list, we have tried to mark the dealer with the current best price. However, prices may change over time or certain products may be out of stock.
Current gaming Black Friday highlights at a glance
Video games at reduced prices on Black Friday
Amazon:
Otto:
Gaming offers at Mediamarkt and Saturn:
Microsoft / Xbox Store
Headphones, keyboards, and gaming mice: Reduced gaming accessories on Black Friday
How do I know a good gaming offer for Black Friday?
How long are the Black Friday offers for games valid?
Current Black Friday gaming highlights at a glance
Fifa 22 in the PC -Version is current at Amazon for 29.99 euros .
Star Wars Jedi: Fallen Order (Playstation 4) is currently available for

14.99 euros

.

The Corsair, HS80 RGB Wireless, Over -Ear gaming headset Carbon is available for

89 euros at Saturn (around 40 percent discount).

Tomb Raider: Definitive Edition

for 2.99 euros instead of 19.99 euros

in the Microsoft Store
The Razer Basilisk Ultimate gaming mouse with charging station is available from Amazon

for 97.99 euros instead of 189.99 euros

(currently available from Mediamarkt for 99 euros) .

All around Black Friday, of course, not only gaming products are reduced. That's why you can find our large overview of the best Black Friday offers from the most important retailers here all technology categories.

Video games at reduced prices on Black Friday

Amazon:

Fifa 22: PC version for

29.99 euros instead of 59.99 euros; Xbox version for

39, 99 euros

instead of 69.99 euros ; PS5 version

49.99 Euros

instead of 79.99 euros ( for the same price also

at Mediamarkt available

.

Demon Slayer -Kimetsu no Yaiba- The Hinokami Chronicle (Playstation 5) for

33.40 euros

instead of 59.99 euros.
Need for Speed ​​Hot Pursuit Remastered (PC-Code for Origin):

9.90 euros

instead of 29.99 euros.
Star Wars Jedi: Fallen Order – Standard Edition (Playstation 4):

14.99 euros

instead of 69.99 euros.
Marvel's Spider-Man: Miles Morales (PlayStation 4 including free upgrade to PS5):

34.99 euros

instead of 59.99 euros.
Playstation Plus membership for 12 months:

39.99 euros

instead of 59.99 euros.
It takes two (PS4 version + free PS5 Upgrade) for

17.99 Euro

instead of 39.99 euros.
Mario & Rabbids Kingdom Battle – Gold Edition (Switch) for

27.99 euros

instead of 59.59 euros.
Ratchet & Clank: Rift Apart (PS5)

39.99 euros

instead of 79.99 euros; available at Mediamarkt for the same price.
F1 2021 (PS4 version + free PS5 upgrade)

39.99 euros

instead of 69.99 euros.
Assassin's Creed Valhalla: PS5 version for

24.99 euros

instead of 69.99 euros; PC version for

19, 99 euros

instead of 59.99 euros .
Final Fantasy VII Remake Intergrade (PS5) for

39.99 euros

instead of 79.99 euros.
Returnal (PS5):

49.99 euros

instead of 79.99 euros.

There are even more interesting Amazon offers for Black Friday from other tech categories.

Otto:

Mario Party Superstars (Nintendo Switch) for

44.99 euros instead of 60 euros.

Mario Kart 8 Deluxe (Nintendo Switch)

42.99 euros instead of 60 euros.

New Super Mario Bros. U Deluxe (Nintendo Switch)

for 42.99 euros instead of 60 euros.

Fifa 22 for the P laystation 4 for

39.99 Instead of 69.99 euros.

Call of Duty Vanguard (PS4) for

54.99 euros instead of 74.99 euros.

Call of Duty Vanguard (PS5) for

59 euros instead of 79 euros.

Animal Crossing New Horizons (Nintendo Switch)

for 42.99 euros instead of 60 euros.

Here is our overview of the best technology bargains at Otto on Black Friday.

Gaming offers at Mediamarkt and Saturn:

The Last of Us Part II (PS4) for 19.99 euros instead of 44.99 euros.
Ratchet & Clank: Rift Apart (PS5) for

39.99 euros instead of 79.99 euros.

Ghost of Tsushima (PS4) for

19.99 euros instead of 59.99 euros.

Red Dead Redemption 2 (PS4)

for 17.99 euros instead of 59.99 euros.

Marvel's Guardians of the Galaxy (PS5)

for 34.99 instead of 69.99.

NBA 2K22 (PS5)

for 39.99 euros instead of 74.99

(also reduced for other consoles)
Xbox Gamepass PC 3 months for

19.99 euros

.
Nintendo Switch Mario Kart 8 Deluxe

288 euros

.

Here is our overview of the best tech deals at Mediamarkt and Saturn.

The Witcher 3: Wild Hunt – Game of the Year Edition

for 9.99 euros instead of 49.99 euros

Metro Redux Bundle for

7.49 euros instead of 29.99 euros

Tomb Raider: Definitive Edition

for 2.99 euros instead of 19.99 euros

Headphones, keyboards, and gaming mice: Reduced gaming accessories on Black Friday

Corsair, HS80 RGB Wireless, Over-Ear Gaming-Headset Carbon for

89 euros at Saturn (instead of EUR 149.99).

JBL Quantum 600, Over-Ear Gaming Headset Black:

79.99 euros instead of 124.99 euros at Saturn

.
HyperX Cloud II Wireless – for PC, PS4, Nintendo Switch, Over-Ear Gaming Headset Black / Red:

89 euros instead of 139.99 euros at Mediamarkt .

Anker PowerCore Play 6K Smarter Game Controller, gaming mount with integrated 6700mAh power bank and gamepad, compatible with iOS and Android for

25.99 instead of 39.99 euros

.
Gaming -Mouse Razer Basilisk Ultimate with charging station at Amazon

for 97.99 euros instead of 189.99 euros

.
Roccat Vulcan 121 AIMO, Gaming Keyboard, Mechanical

for 88 euros instead of 154.99 euros at Saturn

.
WD-Black SN850 with heat sink – Works with Playstation 5, Gaming SSD, 500 GB SSD PCI Express, internal:

119 Instead of 174.90 euros at S. aturn

.

How do I recognize a good gaming offer for Black Friday?

The original prices given by the dealer are often to be treated with caution. The product price at market launch is often given here. However, this does not necessarily mean that an offer is not worthwhile. For example, FIFA 22 initially cost 59.99 euros for the PC. However, the game will not miss this price on average after Black Friday. The Amazon offer of 29 , 99 Euro is for Fifa- Still an interesting deal for fans, because the video game at Mediamarkt, for example, costs five euros more and the price will probably increase again slightly after the campaign days in November.

How long are the Black Friday offers for games valid?

This is from Dealer to dealer different. At Mediamarkt and Saturn, for example, the end of the campaign is on November 28, 2021. However, Black Friday is followed by Cyber ​​Monday, for which many offers remain valid or new ones are added.

You might also be interested in