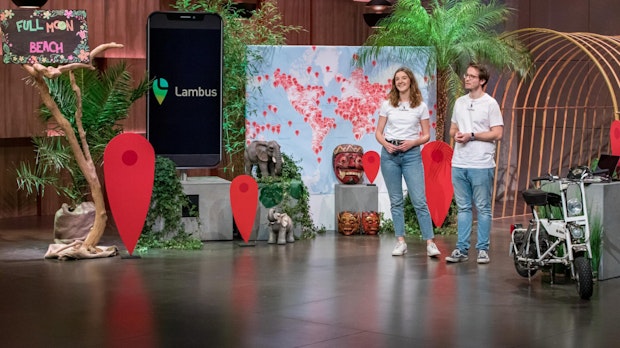 On Monday, the DHDL viewers saw how investor Carsten Maschmeyer agreed a 500,000 euro deal with Lambus after a tough struggle. In return, the lion, favored by the founders in advance, was to receive an 18 percent share in the startup, which specializes in arranging travel. However, following the broadcast, which was recorded in spring 2020, the plans fell apart. The deal fell through – and that was mainly due to the corona pandemic.
Corona pandemic caused deal to fail
As Gründerszene.de reports, the deal was negotiated extensively after the broadcast. A so-called term sheet, a binding basis for the formulation of a later contract, was already in place, as Lambus founder Knöchel said. In the summer it was decided not to accept the deal. After all, a large part of the investment should go into scaling the platform. But because of the corona pandemic, that was a hopeless undertaking, as people simply did not travel.
The ones from Anja Niehoff and Hans Knöchel The Lambus travel app launched enables users to plan trips together, collect documents for bookings and later offset them against one another, and share photos from their vacation. The app also suggests travel destinations based on photos. Users can book rental cars or suitable flights at the same time. In April 2020, at the time of the DHDL recording, Lambus had already recorded 60,000 users through word-of-mouth propaganda.
Currently, the number of users has doubled to around 120,000 despite the corona pandemic, as Niehoff and Knöchel told Wirtschaftswoche. Because for Lambus, the failure of the deal was not the end. After a few financially challenging months – including a wage waiver – the startup set up financing with business angels in autumn 2020. According to the start-up scene, this should have amounted to 300,000 euros and can be expanded to around 1.3 million euros in perspective.
They are also with Maschmeyer According to the founder, still in contact. It cannot be ruled out that both parties will come together on business after all, said Knöchel to Wirtschaftswoche. Lambus has used the past few months to work intensively on the platform. In doing so, it was possible to implement user requests quickly, which was expressed not least in the many good reviews in the app stores. With the drop in incidence values ​​and the hope of travel opportunities in the summer, user activities have risen sharply over the past few weeks, according to Knöchel.
You might also be interested in