Deloitte has published its annual ranking of "North America Technology Fast 500", which lists the fastest growing North American companies in the technology, media, telecommunications, life sciences, fintech and energy technology sectors. now in its 27th year
Axonics took first place with a growth rate of 87,037% between 2017 and 2020. Based in Irvine, California, the company is a global medical technology company focused on developing and marketing novel therapies for incontinence patients.
Axonics, for example, has developed and marketed an implantable nerve stimulant provides an easy-to-use, safe, and clinically effective therapy for patients with overactive bladder and / or fecal incontinence. Axonics is one of six California-based companies to be ranked in the top 20.
Technology Fast 500 winners have been selected based on a percentage increase in revenue for the fiscal year 2017-2020. Overall, the Technology Fast 500 companies achieved revenue growth of 212 to 87,037 percent over the three-year period in 2021, with a median growth of 521 percent.
"The Technology Fast 500 highlights the technology leader's "In the face of the myriad challenges posed by the pandemic, the best and smartest have been able to spin up, reinvent, transform and grow," said Paul Silverglate, vice president of technology at Deloitte.
The following companies are on the Technology Fast 500 top 10 list: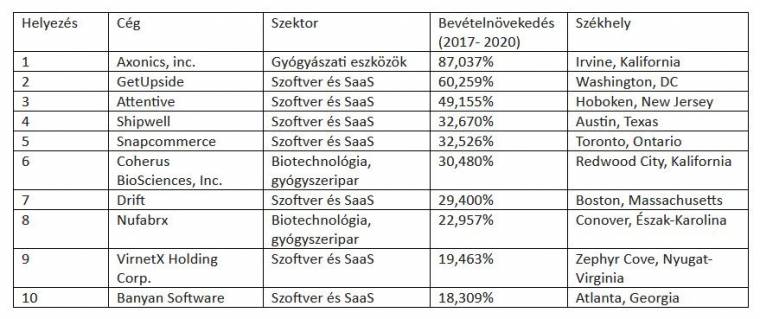 Deloitte Technology Fast 500 winners represent more than 37 states and provinces in North America. However, California's Silicon Valley remains the hub for fast-growing companies, with the highest regional weight at 21 percent of this year's Fast 500 list. New York and its catchment area accounted for 12 percent of the winning companies, New England for 8 percent, Los Angeles and its catchment area for 6 percent, and major cities in Washington DC, Washington and Texas each with 5 percent of the winning companies on the list.
Software companies continue to be on the list, representing the majority of winners for the 26th consecutive year (73%), breaking last year's record. Among the software companies on the list, enterprise infrastructure and productivity (26%), fintech companies (19%) and digital platforms (18%) are the leading sub-sectors. Since the ranking was created, software companies have consistently made up the majority of winners, with an average growth rate of 520 percent in 2021.
Biotechnology and pharmaceutical companies are the second most common sector in this year's ranking, with Fast 500 companies 14 and will reach a median growth rate of 642 percent in 2021. Median growth rates for electronic devices / hardware companies were 564 percent and digital content / media / entertainment companies were 455 percent median
81 percent of companies on the 2021 list received venture capital support at some point in its history, and 27 of the top 30 were funded by venture capital or private equity
The list can be downloaded here>>>
Hardware, software, tests, curiosities and colorful news from the world of IT by clicking here