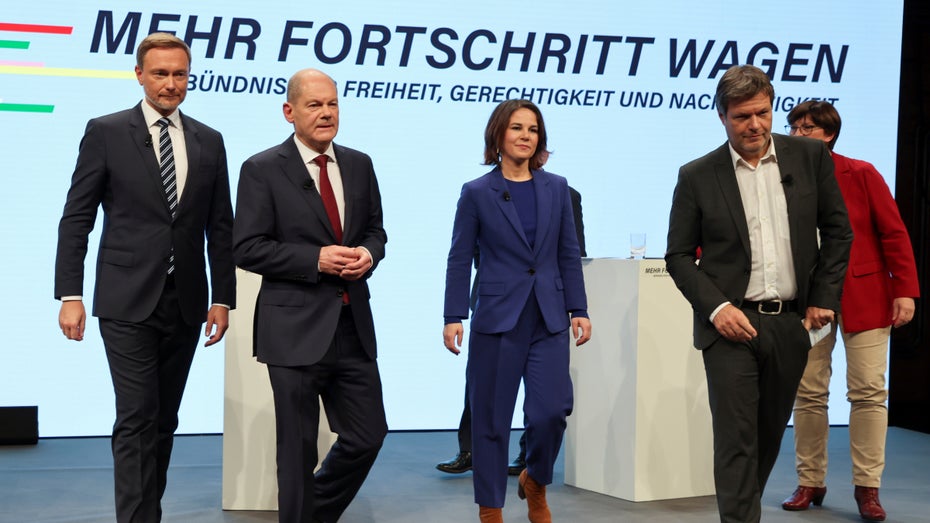 Use the potential of digitization
Commitment to Open Source
Germany as a leading startup location in Europe
Focus on New Finance
Download the coalition agreement
It took a while, but now the coalition agreement is here . The first impression gives you hope. There is a chance of something like the much-invoked digital awakening. There is still a long way to go. But at least a number of traffic signs have already been set up.
That is also applauded. "The coalition agreement is positive – many important steps for a sustainable start-up location Germany are listed in the coalition agreement," says Bitkom. "Overall, the Koa contract contains many demands from digital civil society. That is gratifying and can actually mean a departure "writes Netzpolitik on Twitter.
Use the potential of digitization
The subject area "Modern state, digital awakening and innovations" is even the first chapter after the preamble is dedicated. There it says, for example: "We want to make better use of the potential of digitization in the state and society. Our goal is the nationwide supply of fiber optics and the latest mobile communications standard. We will promote key digital technologies and improve the conditions for start-ups at the technology location. "This is initially very general. On the other hand, formulations such as "We are in the mood for new things and will promote technological, digital, social and sustainable innovation." should include an administration that is more agile and digital. Part of it is: "Digitization is becoming a general and cross-agency core component of training." There should also be some movement in legislation. In the run-up to legislation, according to the contract, the possibility of digital implementation should be checked and a digital legislative portal created.
In principle, the Decision to digitize and transform the entire public apparatus. "We want to use the potential of digitization for people's development opportunities, for prosperity, freedom, social participation and sustainability. To this end, we will set ourselves ambitious and verifiable goals and take realistic and quickly noticeable measures. Competencies in the federal government will be reorganized and bundled, an additional central digital budget will be introduced and laws will be subjected to a digitization check. The administration is becoming more digital and consistently citizen-oriented. We promote digital innovations as well as entrepreneurial and social initiative and rely on open standards and diversity. We are strengthening digital competence, fundamental rights, self-determination and social cohesion. "There is talk of technological and social progress and that" the digital awakening that secures our values, digital sovereignty and a strong technological location "can only be done in a progressive European framework succeed.
Commitment to Open Source
It is quite specific, at least in part, with a view to digital administration. "We implement solutions through automation as a priority," announces the coalition. Noteworthy is the fundamental commitment to open source and transparency. "We set open standards for public IT projects. Development contracts are usually commissioned as open source, the corresponding software is generally made public. On the basis of a multi-cloud strategy and open interfaces as well as strict security and transparency requirements, we are building a public administration cloud. "
How Even the previous governments, the Ampel-Coalition promised "nationwide supply with fiber-to-the-home, FTTH) and the latest mobile communications standard." But: "We invest particularly in areas where the need to catch up is greatest, above all blank spots. While maintaining investment protection, we enable Open Access under fair conditions, where necessary regulatory. We ensure the pace of infrastructure expansion through lean digital application and approval procedures, standardization of alternative laying techniques and the establishment of a nationwide gigabit land register. We strengthen consumer protection with guaranteed bandwidths, if necessary through flat-rate claims for damages. On the basis of potential analyzes, we are promoting the expansion of fiber optics even without a threshold. "
Germany as a leading startup – Location in Europe
In the area of ​​the digital economy, the coalition has taken on quite a few things with a view to startups. "We promote digital startups in late-stage financing and strengthen the venture capital location" is just as much in the contract as the promise: "We want to increase the proportion of women founders in the digital sector. To this end, we are creating a female start-up grant and reserving part of the future fund. We design public tenders and procurement processes B. Easier for Gov and EduTech start-ups. We will make employee equity participation more attractive for start-ups. We are strengthening Germany as a games location and stabilizing funding. We strengthen SMEs in digitization through uncomplicated funding and expand support for IT security, GDPR-compliant data processing and the use of digital technologies. "
The 2020s should become "a decade of future investments, especially in climate protection, digitization, education and research as well as infrastructure". Germany is to become "the leading start-up location in Europe". The future fund will also open up the venture capital market to institutional investors and complement the German financing landscape in a targeted manner through flexible modular design. IPOs and capital increases as well as shares with different voting rights (dual class shares) in Germany, especially for growth companies and SMEs, should be made easier.
FinTechs, InsurTechs, platforms and NeoBrokers are also explicitly mentioned. For them, "and all other sources of ideas, Germany should become one of the leading locations within Europe." It is important to use the "opportunities associated with new technologies, such as blockchain, to identify risks and create an appropriate regulatory framework. We will therefore ensure effective and swift approval processes for FinTechs. Digital financial services should function without media disruptions; We will create the legal framework for this and extend the option of issuing electronic securities to include shares. "That sounds very promising and can certainly be viewed as a way into the future. Now the coalition has to go this way too.
Download the coalition agreement
You might also be interested in