LG Electronics (LG) has announced that it will fully switch to renewable energy by 2050 as part of its sustainability strategy. The target in LG's recent sustainability report complements the company's previous initiative called Zero Carbon 2030, in which LG promised to halve CO2 emissions from production by 2030, offsetting the equivalent of additional emissions. achieve total carbon neutrality with quotas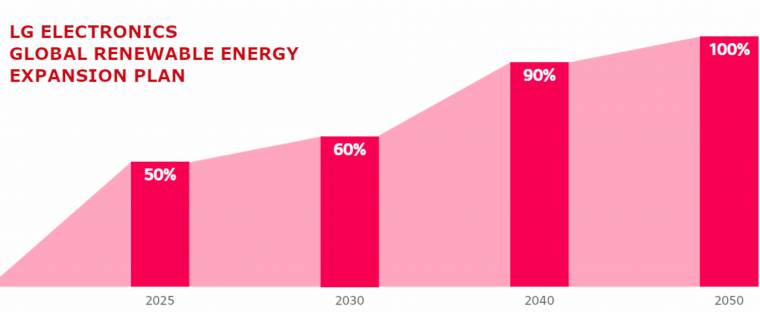 The conversion will be carried out by region, starting with North America, where all offices and production sites will be powered by renewable energy within one year. In its non-Korean units, LG aims to meet 50 percent of its factories' electricity needs with renewable energy within four years. in buildings, such as the development of energy purchase agreements, through which electricity can be obtained directly from suppliers, or the use of renewable energy certificates, also known as green labels (RECs). The strategy also includes participation in LG's Green Premium program in its own market, Korea, which guarantees the purchase of clean energy directly from Korea ElectricPower Corporation (KEPCO).
LG currently has 3, It will install 2 MW solar modules at its plant in Noida, India, which will also provide power to LG's local administrative center. This expansion is part of the so-called Clean Development Mechanism (CDM) project, which allows LG to receive emission reduction credits certified under the United Nations Framework Convention on Climate Change (UNFCCC) *.
"Our creed that we want to create a better life for people is gaining new meaning with LG's transition to renewable energy and its carbon neutrality initiative," said Park Pyung-gu, president of LG's safety and environmental division. "Innovation must not be limited to laboratories – innovation is also needed in factories and plants. Today's manufacturers have a unique opportunity to create a world for the next generation that is worth inheriting. We at LG take this responsibility seriously."
Hardware, software, tests, curiosities and colorful news from the IT world by clicking here