The cooling of Bitcoin (BTC) miners by immersion in liquid coolant is a proposal that increasingly resonates with the emerging industry. The BlocksBridge consulting firm affirmed this week that it is an activity that seeks to increase the profitability and speed of the machines, which keep the network alive.
According to Nishant Sharma, founder of the consulting firm, a BTC miner submerged in a tank with coolant has the ability to run "faster" and without risking of overheating.
Sharma stated, during an interview with the Bloomberg agency, that each mining company is testing the technology at the moment and, according to estimates, in a short term all the large companies in the sector will be producing BTC with immersion at « large scale ».
« It looks like a fish tank with machines inside. Sooner or later, all the big miners will carry out large-scale submergence mining, "said Sharma.
The businessman indicated that submergence mining can bring advantages to those who undertake it over your competitors. In his opinion, the activity proposes to solve one of the complex calculations that sustain the Bitcoin system, "promoting a virtual arms race for the fastest machines."
In fact, the path taken towards immersion-cooled mining has caused the demand for the synthetic refrigerant that bathes mining platforms, to have risen considerably.
«We are at the limit of our ability to cool electronic devices with air . Our business has grown 500% in the last six or seven months. It just skyrocketed, "said David, who is the co-founder and chief scientist of the Texas Engineered Fluids company.
And he seems to be right. According to Bloomberg, Riot Blockchain Inc., one of the largest miners in the North American country, reported in October that it was already creating the first large-scale dip-cooled Bitcoin mining farm within its facilities in Texas, United States.
Riot Blockchain, which is also one of the few companies linked to Bitcoin, which is listed on the New York Stock Exchange, reported that it would place 46,000 mining machines that need about 200 megawatts of electricity in coolant liquid.
And, furthermore, in August, the firm Royal Dutch Shell Plc, presented a new immersion cooling fluid, which can be used precisely for Bitcoin mining.
For Tyler Page, who is the CEO of Cipher Mining Technologies Inc. , Bitcoin mining operations are made up of thousands of computers stacked on shelves surrounded by huge fans. Electricity, he suggests, "can represent approximately 80% of the operating cost of a miner."
For this reason, and given the constant criticism of the mining industry for its supposed environmental impact, Immersion cooling gains relevance, although it will not reduce energy consumption, it is feasible to make the company even more profitable .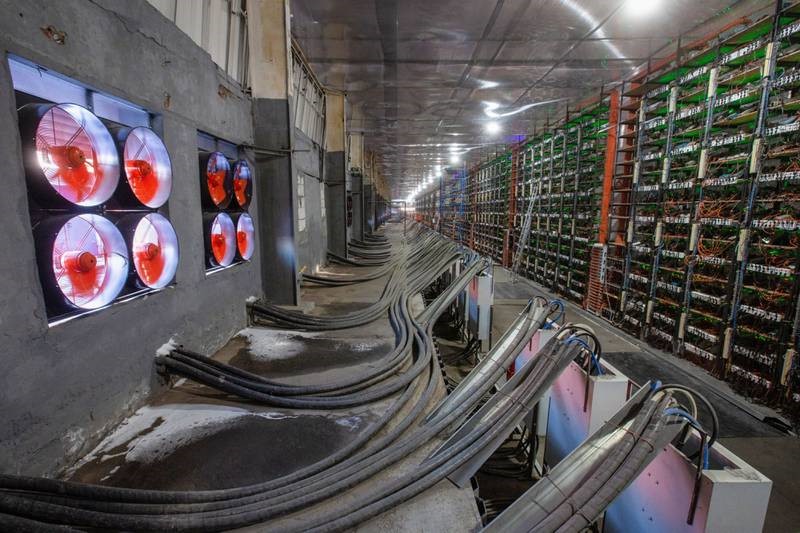 Mining Bitcoin and other cryptocurrencies relying on dip cooling is nothing new. In fact, it is being studied since 2015, as we recorded it in CriptoNoticias.
At that time, the Green Revolution Cooling company presented an immersion cooling technology for mining machines. The difference is that at that time there was talk of oil to cool the miners .
According to the bet of that company, it was about the offer of an extremely flexible infrastructure, fast to implement and easy to scale.
Oil immersion cooling, as clarified by this medium, differs from any other form of precision and / or liquid cooling . It is designed to provide easy scaling, high-density industrial cooling with minimal upfront infrastructure and the power requirements we traditionally employ.
Along the same lines, DMG Blockchain Solutions, which is Another US company dedicated to BTC mining, reported at the beginning of the year that was already working on the deployment of its immersion cooling system for its mining equipment , with the which plans to increase profits by reducing capital expenditures. With the new method, the temperature of the equipment with liquid refrigerants will be controlled.
The company's strategy consisted of executing all its operations under its immersion system , with which they intend to obtain a superior competitive advantage.
And there are already miners who work with this technology. In January, mining equipment manufacturer Canaan announced the launch of a new equipment, called "Avalon Immersion Cooling A1066I".
It is, in essence, a new miner that allows cooling by immersion . According to the descriptions, the machine has 90 mining modules running on a liquid coolant simultaneously. Likewise, it is ensured that the miner achieves greater processing power with an overclocking rate of 45%.
Whether or not the migration to this way of mining Bitcoin will take place is unknown, but it seems that Everything points that way, especially due to the eminent increase in activity in other countries as a result of China's ban, which apparently meant a true expansion of computer activity .