The German multinational sports clothing and shoes, Adidas, announced via Twitter that it has partnered with Coinbase, the main cryptocurrency exchange in the United States.
The announcement has caused a stir on the network social, where the tweet exceeded 30 thousand "likes" and was shared more than 8 thousand times in less than 2 hours.
"We have partnered with @coinbase. Probably nothing, "reads the Adidas tweet. Meanwhile, from the official account of the US exchange they responded with a handshake emoji, as a sign of confirmation of the alliance. Later, Coinbase posted another tweet, welcoming the German firm "to the party" and calling it a "partner."
At the time of writing this report, no to know the details of the alliance. However, the most repeated question in the comments of the tweet is whether the firm is preparing to accept cryptocurrencies as a form of payment .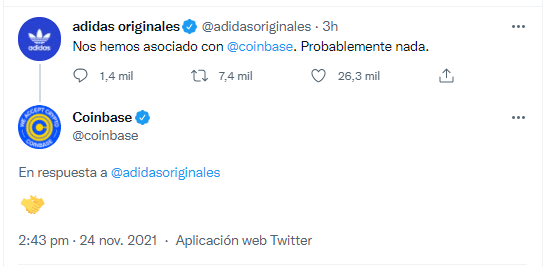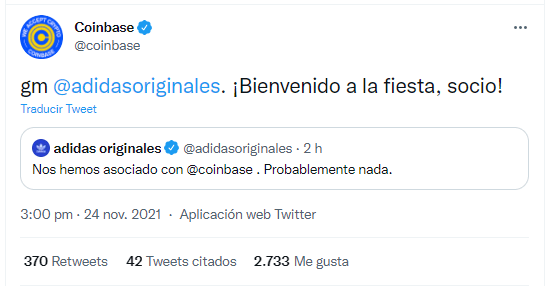 The publication came from the account of «Adidas Originals», which corresponds to the section of the casual sportswear line, specialized in shoes, shirts, coats, bags, sunglasses and other accessories.
Adidas wants to create its own metaverse

This same account announced on November 17 the launch of a non-fungible token (NFT) , which is an animated representation of the clover logo, used by Adidas since its foundation in 1949 to 1994. The NFT had a supply of 3,268 tokens, which were already claimed in their entirety by the favored clients, on the Poap Gallery platform.

This announcement was accompanied by a invitation to join em prey on his "journey to the metaverse." Later, on Monday of this week, Adidas Originals hinted on Twitter about a possible association with The Sandbox for the construction of a metaverse of their own , which could be called «adiVerso».

Another sportswear giant, Nike, has also made some moves in the direction of NFTs . As reported by CriptoNoticias, the company registered all its merchandise with the United States Patent and Trademark Office, including its slogan "Just Do It" and the Jumpman logo, as "downloadable virtual products." The action could be motivated by an interest in participating in the market of NFTs and metaverses.