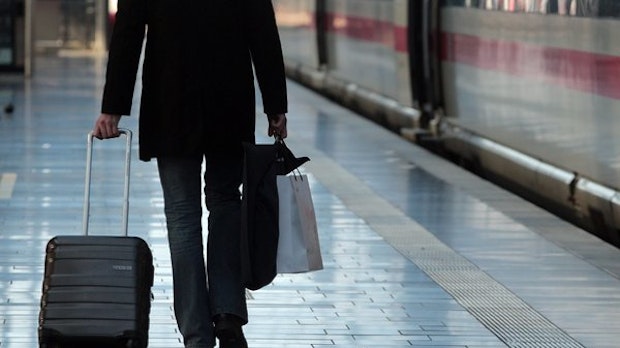 Pendulum Republic of Germany: Over the years, the number of people whose place of work is in a different federal state than their place of residence has risen to around 3.4 million. Three months before the federal election, calls for more climate-friendly commuting became louder. In view of the current debate about higher gasoline prices, the left in the Bundestag demanded that commuting must remain affordable.
In the past few years there was at the number of commuters increased significantly: in 1999 only around 2.1 million people did not work in the country in which they lived. In 2019 it was exactly 3.396 million. In 2020, the number fell slightly to 3.381 million federal state commuters subject to social security contributions. This comes from the commuter statistics of the Federal Employment Agency (BA), which are available to the German Press Agency in Berlin and which the Left in the Bundestag has evaluated.
The BA figures do not show how many people temporarily did not have to commute at home because of corona-related work. A BA spokeswoman explained that the statistics were compared between the place of residence and place of work. "Whether the place of work is actually visited cannot be shown."
Also interesting: E-scooters for commuters: Electric scooter from Mercedes is here
According to the statistics, most commuters between the federal states were from Brandenburg to Berlin in 2020, with 225,000 at least with 41 from Bremen to Saarland.
Using the example of the most populous federal state of North Rhine-Westphalia, it can be seen how pronounced there is commuting outside of the metropolitan areas: 93,000 employees lived in North Rhine-Westphalia, but worked in neighboring Lower Saxony, 64,000 in neighboring Hesse, but also 47,000 in Bavaria and 38,000 in Baden-Württemberg.
According to the Federal Agency's figures, around 408,000 East German employees commuted to the West in 2020 (2019: 415,000). Conversely, around 178,000 people came from West Germany to work in the East.
Left demands: The way to work must remain affordable
Against the background of the current petrol price debate, left-wing social expert Sabine Zimmermann called for consideration for commuters. It would be "cynical if the price to get to work at all is screwed up", she told the dpa.
Greens boss Annalena Baerbock had – according to her party's draft program – advocated a gasoline price increase of 16 cents in total. She received a lot of criticism for the advance. The green traffic expert Stefan Gelbhaar demanded: All people should be able to get to their place of work or work from home in a climate-friendly way. Local and long-distance public transport would have to be expanded. "For short and medium distances, we need a network of cycle paths with which cycling safely between all villages and cities is possible," said Gelbhaar of the dpa. "Bicycles and trains have to be easily combined, for example through rental bike systems and secure bicycle parking garages at train stations."
For people who have a car for their commute or need their work, the charging system must be expanded across the board. "Last but not least, there needs to be a right to home office and stable broadband internet throughout the country, for all people who work wholly or partially from home."
Zimmermann also pleaded in principle for an end to the internal combustion engine. The federal government must keep the way to work affordable. This included the expansion of the railway with cheap tickets and affordable electromobility. Zimmermann said: "Employees are required to be mobile and sometimes long distances to work. No federal government, not even the Greens, have wanted to change anything so far. "Gelbhaar accused Transport Minister Andreas Scheuer (CSU) of not having set the right course for any of the important developments during his time as Transport Minister.
The Federal Statistical Office carried out a survey on the influence of pandemic-related home offices on commuter behavior. Accordingly, there was a decrease in commuting from March 2020. The decline intensified in April. In May 2020, more people were commuting again. dpa
You might also be interested in